The LL League Cross Country Championships presented by Orthopedic Associates of Lancaster has a new home for 2023: South Hills Park in Lebanon.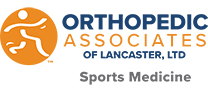 As is traditional for an odd-numbered year, girls will race first at 4 p.m. with boys to follow at 4:45. Please note that admission will be charged as vehicles enter the parking areas. Single drivers are $5, a driver and one or more passengers is $10. Cash is accepted at the parking lot, or parking passes may be purchased in advance online at
https://events.ticketspicket.com/agency/74737f02-bf2d-46ad-943b-f3d3aac397a9/events/88f162b1-c935-46d7-87a4-12f30633c7db
Parking is available at the Klein Avenue entrance to the park, the South Lincoln Avenue entrance, or at Lebanon High School.
Important Note About The Course
As seen on the course map below, the course does cross over on to the grounds of the Lebanon VA Medical Center. This is Federal Government property and no spectators will be permitted on to the Lebanon VA grounds.
Awards, including Section Champion trophies, individual race place finisher medals, and League Championship team awards will be presented starting at 5:30 at the pavilion located near the finish line.