The LL League Girls Tennis Flight tournament presented by Orthopedic Associates of Lancaster has concluded.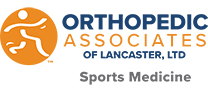 Sienna Castelli of Lancaster Country Day School was the lone returning champion, and she successfully defended her title, besting teammate Sophia Babar in the finals in 3 sets.
Castelli and Babar also paired up to win AA Flight 1 Doubles.
On the AAA side, top seed Jade Flores of Conestoga Valley won her first AAA singles title.
In Flight 1 AAA doubles, Haley Miller and Jade Miller brought home gold for Manheim Township.
The full set of 2023 champions are:
Flight 1 AAA Singles: Jade Flores, Conestoga Valley
Flight 1 AA Singles: Sienna Castelli, Lancaster Country Day
Flight 1 AAA Doubles: Miller/Miller, Manheim Township
Flight 1 AA Doubles: Castelli/Babar, Lancaster Country Day
Flight 2 Singles: Jade Miller, Manheim Township
Flight 3 Singles: Lydia Sullivan, Hempfield
Flight 4 Singles: Rose Durrett, Hempfield
Flight 2 Doubles: Sanchez/Sanchez, Manheim Township