The 2023 LL League Girls Tennis Team tournament presented by Orthopedic Associates of Lancaster is set, AND will kick off a day earlier than scheduled.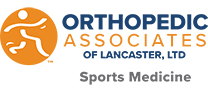 Due to forecast rainy weather on Friday, the quarterfinals will be held on Thursday, September 28th. Section 1 Champion Manheim Township is the top AAA team and will have a quarterfinal bye in to the semifinals. Section 3 Champion Lancaster Country Day receives the same treatment by virtue of being the top AA team.
Section 1 runner up Hempfield will host Section 2 runner up Manheim Central. Section 2 Champion Elizabethtown will host Section 3 runner up Annville-Cleona. Both matches will be Thursday, September 28th and will get underway at 4 p.m.
The Semifinals remain scheduled for Monday, October 2nd (Manheim Township and Lancaster Country Day host) with the finals slated for Tuesday, October 3rd at Donegal.